We live in a golden era of information; but the sheer volume of it that is available at our finger tips can be a double-edged sword. It is a time consuming process having to wade through the sea of garbage to find golden nuggets of information. As a private investor, twitter has been a vital tool for filtering information. And it will enable investors to follow some of the brightest minds within the global investment community.
Below is a collection of essential reads and talented writers investors should be avidly following –
Nick Maggiulli  – This time is different
https://ofdollarsanddata.com/this-climb-is-different/
Nick Maggiulli, Analytics manager at Ritholtz Wealth management discusses the inexorable rise of big tech. FAAMG stocks (Facebook, Amazon, Apple, Microsoft and Alphabet) are slowly taking over the stock market, increasing their share of the S&P 500 from 7% to 17% over 10 years. Their combined valuation is a whopping $5.07 trillion at the end of 2019. With monopolistic profits and substantial moats, Nick muses whether this time is different?
If history is anything to go by, the market capitalisation of the largest public companies has dramatically shifted every 10 years.
Visual Capitalist captures the changing market capitalizations of the largest companies from 1999 to today using beautiful visuals. See here: https://www.visualcapitalist.com/a-visual-history-of-the-largest-companies-by-market-cap-1999-today/
Nicks conclusion is that nothing lasts forever; companies that once looked unstoppable have been humbled by creative destruction. He highlights that of 28,853 companies that have traded on the US markets since 1950, 22,469 (78 percent) have died by 2009.
"There is nothing permanent except change." – Heraclitus
Morgan Housel – Casualties of Your Own Success
https://www.collaborativefund.com/blog/casualties-of-your-own-success/
Morgan is a student of multi-disciplinary learning and is adept at taking lessons from other fields such as biology and relating them to investing.
In this piece he highlights evolutions bias towards making animals larger over time. Morgan then begs the question as to why evolution hasn't made animal's gigantic. This is because larger species have a greater tendency to become extinct. Size makes them fragile, and like leverage magnifies returns as well as losses.
In the business world, successful companies display hubris and complacency, this marks the beginning of the end of their success. A healthy dose of paranoia is advised.
Charlie Bilello – 20 Rules for Markets & Investing
https://compoundadvisors.com/2019/20-rules-for-markets-and-investing
Charlie is the former Director of Research at Pension Partners and now runs his own Advisory firm, Compound Partners. The quality of content in terms of writing and graphs is second to none. Within the Fintwit community (financial twitter), I would put Charlie as one of the top 5 people to follow.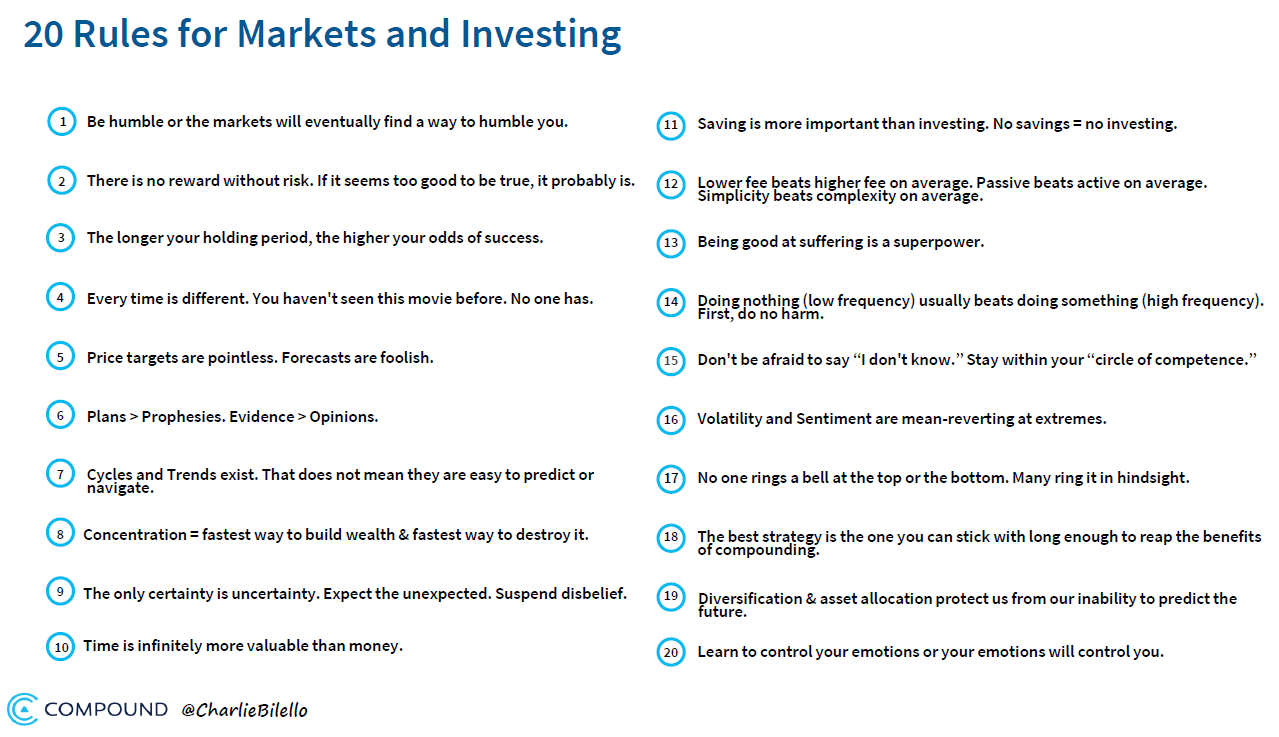 Occam Investing – International Investing: Part 1
http://occaminvesting.co.uk/international-diversification-part-1/
Occam is a little known UK blogger providing indispensible insights to help people make most of their money. His blog may be unknown but it's a diamond in the rough, and thanks to twitter I keep discovering these gems.
UK investors are reminded repeatedly that the FTSE 100 is a globally diversified index, deriving more than 70% of its revenues overseas. This leads to the fallacious conclusion that investing in a FTSE 100 provides them with a globally diversified portfolio. Occam breaks down the FTSE 100 to highlight that this is not entirely the case. Firstly by investing in the UK index, you're limiting your exposure to one country's companies and you're running the risk that that country may face a period of stagnation. For example the Japanese economy and stock market faced two lost decades.  Secondly, he delves into the sector composition of the FTSE 100, highlight that it is heavily geared towards energy and financials. The FTSE 100 has virtually no tech exposure where as the S&P 500 has more than 20%.
Seasoned investors will be aware of the statistic that about 1% of stocks generate close to 100% of stock market returns, what are the chances that they will reside in your home market?
Ben Carlson – What powered such a Great decade for stocks? This formula explains it all
https://fortune.com/2019/11/16/what-powered-such-a-great-decade-for-stocks-this-formula-explains-it-all/?xid=soc_socialflow_twitter_FORTUNE
Ben Carlson, Portfolio manager at Ritholtz Wealth Management runs a blog called 'A wealth of common sense' investing. It's one of the foremost investment blogs and I would comfortably put Ben Carlson within the top 5 people to follow within the Fintwit community.
There's a fierce debate over what's driving this bull market – quantitative easing, stock buybacks, tax cuts, valuation expansion, insert whatever reason fits your ideology. In his piece, Ben dispels these myths, highlighting that "Earnings growth and dividends explain nearly 97% of annual returns for the 2010's." Ben inserts a caveat that fundamentals and prices rarely move in unison, the 2010's were an aberration by historical standards. For example the 1990's saw valuations grow at a far greater speed than corporate fundamentals. Ben always sprinkles his pieces with interesting tables and graphs to convey his message.